Featured on Michael Holigan's Your New House
Limestone Fireplace Mantels
For more than two decades, Siteworks has built a reputation for high quality design and workmanship.
We are best known for the enduring elegance of our limestone fireplace mantels. With three distinct collections to choose from, each with its own broad selection of individual mantel designs, Siteworks has the ideal fireplace for any situation.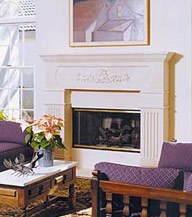 Our premier fireplace mantel collection, available in a wide range of styles and sizes, offers unsurpassed elegance.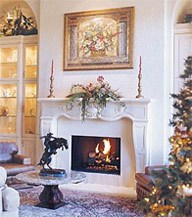 A collection of unique fireplace mantels that were originally custom-built for some of America's finest homes. Offered only in a limited range of sizes.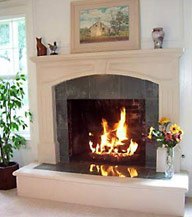 Simple, yet classic in design, this collection offers the natural beauty and elegance of limestone fireplace mantels at a more affordable price. These compact styles add an understated accent and are often the choice for a second or third fireplace.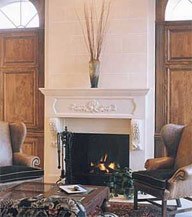 In addition to the mantels in these collections, we can "mix and match" components to give you a unique mantel at a very reasonable price or manufacture a custom limestone fireplace mantle made to your specifications.
Architectural Cast Stone
Siteworks also offers a full line of exterior cast stone products suitable for both commercial and residential applications, whether new construction, remodeling, or restoration.  Our cast stone line offers architectural elements such as window and door surrounds, quoins, columns, balustrades, keystones, trim, coping, address markers, custom signage, pier caps, medallions, veneer, and all types of custom work.