Prior to the advent of gas burning fireplaces, masonry fireboxes with brick mantels (or brick faces and wooden mantels) were very common. While brick fireplace designs can look good, especially in rustic settings, they often darken a room and may look out of style compared to the brighter and more open settings commonplace today.
If you are starting new construction and are considering brick fireplace designs, we recommend that you also consider using stone mantels, including those in our mantel collections. These mantels will add lasting beauty to your home.
If, however, you live in an older home, you may want to consider remodeling your old brick fireplace designs. The photos below show the difference that wood paneling, paint and a limestone fireplace mantel can make to older brick fireplace designs. Remember that your fireplace mantel is usually the center point of the most important social area in your home.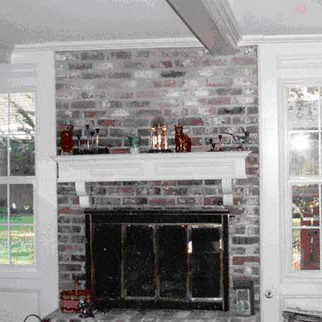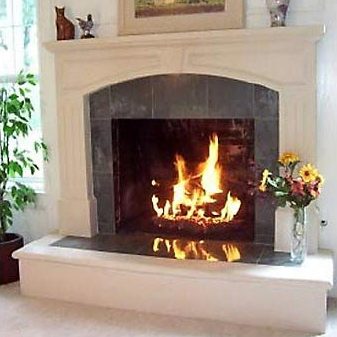 Again, simply cladding your old brick fireplace designs with sheetrock or paneling and adding a limestone fireplace mantel and hearth is an easy and relatively inexpensive make-over. The cladding for outdoor brick fireplace designs should be cast or cut stone, tile or other material impervious to weather.
If we can be of further assistance on remodeling brick fireplace designs, please call one of our design consultants at (800) 599-5463.